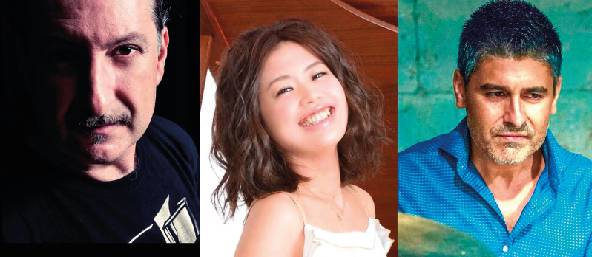 Atomic Bass Trio
A musical reactor to "cure" the sufferings of nature and men – in collaboration with Ancona Jazz
Third event of "Musica in cantina 2019" that, in collaboration with Ancona Jazz, presents an international formation of musicians.
ATOMIC BASS TRIO
Sumire Kuribayashi, piano
Giovanni Scasciamacchia, drums
Giuseppe Bassi, double bass
The Atomic Bass is a musical reactor that produces notes to 'cure' the sufferings of nature and men. A utopia in music elaborated by Giuseppe Bassi, a long-time double bass player with a strong social sensitivity.
The Giuseppe Bassi trio "Atomic Bass" brings together international musicians and celebrates the union of two countries – Italy and Japan – with their musical traditions and the emotional nuances of their peculiar cultures.
A repertoire of original compositions and refined music, which builds an ideal bridge on which jazz meets the tradition of Japanese musical culture, in a triumph of sounds and emotions.
In the background, the positive radioactivity of music, with its 'atomic' power.
---
Giuseppe Bassi
Italian double bass player and composer. His career began in 1990. He plays every kind of music. He performs concerts all over the world. Bassi has played and recorded with the world's greatest jazz musicians including: Lew Tabackin, Bill Mays, Don Friedman, Bobby Durham, John Hicks, Joe Magnarelli, Helen Sung, Mark Soskin, Bill Goodwin, Billy Drummond, Greg Osby,Mal Waldron, David Liebman, George Garzone, Tony Scott, Harold Danko, Ute Lemper. In Italy he has collaborated with everyone from Bollani to Pieranunzi, from Rava to Bosso, Gege' Telesforo and many others. Conspicuous his record production.
Sumire Kuribayashi
Pianist and composer originally from Saitama, Tokyo, she has earned the title of rising star in the new jazz scene in Japan and internationally. She has performed with legendary Japanese jazz musicians such as Hino Terumasa, Hideaki Kanazawa, Naoko Terai. She has released five critically and commercially acclaimed albums as a leader and has toured extensively in Japan and throughout Europe, becoming in recent years one of the most appreciated pianists both for her creative and evocative talents.
Giovanni Scasciamacchia
Drummer, composer, was born in Bernalda (MT) in 1977.
His training as a "self-taught" takes place over the years through careful listening to music, especially that of the Great Jazz.
It will be the greatness and beauty of this genre that will lead him to fully express his talent. He has collaborated and collaborates with all the greatest Italian and American artists including: Steve Grossman,Dado Moroni,Giovanni Amato, Rosario Giuliani,Fabrizio Bosso , etc.
His discography as a leader is impressive, and extensive that in which he is called to collaborate. He is with absolute certainty one of the most respected Italian drummers.