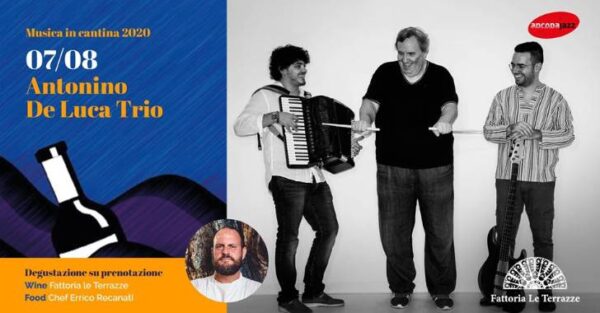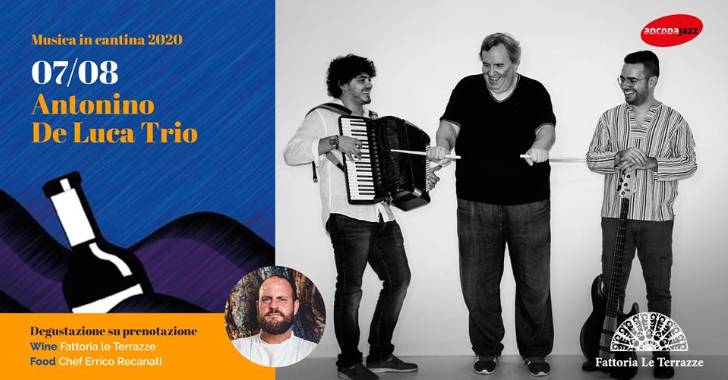 Antonino De Luca Trio
featuring Massimo Manzi, drums | Emanuele Di Teodoro, bass and double bass 
First event of "Musica in Cantina 2020", in collaboration with Spaziomusica and Ancona Jazz.
Friday 7 august – h 21.15
(☂ In the event of bad weather ➤ 9 august)
Antonino De Luca, accordion
featuring Massimo Manzi, drums
Emanuele Di Teodoro, bass and double bass
☎ Entrance ONLY by reservation: 0717390352
✼✼✼✼✼
Many are the influences that this trio has been carrying on for years: the tradition of bop with the sense of blues as a strong predominant element, blends with the Mediterranean and Sicilian atmospheres brought by Antonino's origins, the first ambassador of the Castelfidardo accordion. The energy and eclecticism of Emanuele, a rising star from Teramo already with important collaborations to his credit, and the great Massimo Manzi, a true legend of Italian and international jazz drumming, to complete the unique sound that this trio sets as its primary objective.
✼✼✼✼✼